5 equestrian show shirts that have it all: comfort, style and functionality.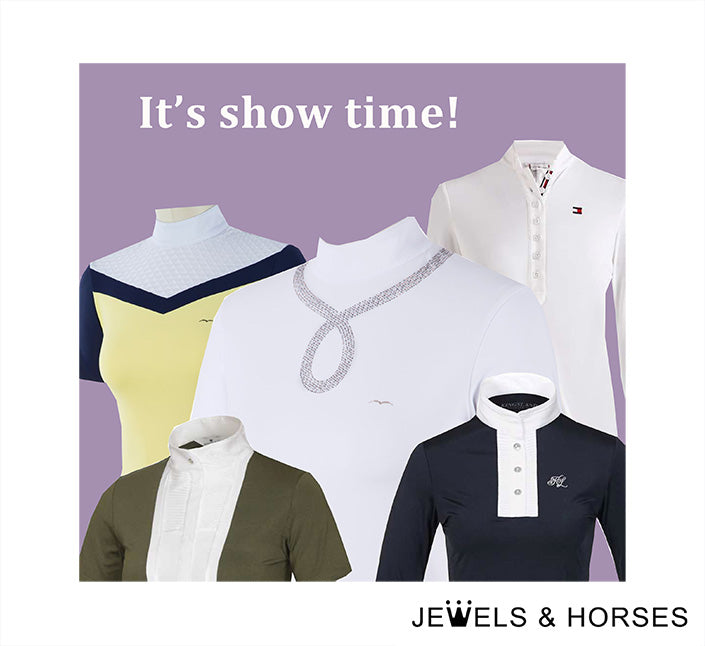 The best show shirts for equestrian competing should offer you complete comfort, style and functionality. So don't compromise
The importance of comfort in an equestrian show shirt
It perhaps goes without saying that you don't want to be distracted in an equestrian event. Fiddling with a tight collar, or feeling too hot or constricted. Shirts with stretchy technical fabrics can help. Look for breathable fabrics with moisture-wicking materials that help to regulate your temperature and dry quickly. Short sleeve show competition shirts can obviously offer a solution to heat. But some long sleeve show shirts also have discreet breathable mesh panels.
Stylish show shirts add points
Well maybe not literally. But if you look and feel fantastic, it can help your performance. Although with dressage looking polished and elegant can add significantly to the overall presentation. Details count. Polished buttons. Decorative piping. Sparkle from rhinestone. Or just a crisp and beautifully cut collar. The choice is yours.
Fit for purpose
Stretchy fabrics that allow full movement are essential for competition shirts.  Depending on your discipline you may need wear a stock. That means a collared show shirt. Make sure that the buttons or other fastening isn't too bulky or constrictive. Concealed buttons and magnet snap buttons are a great invention.
5 of the best show shirts we love:
Kingsland Klonna LADIES LS SHOW SHIRT available in Navy & Silver £105

Why we love it:
Fitted material with such a smart crisp look. It is breathable, with moisture management and quick dry material making it suitable for winter & summer competitions. The front collar has beautiful crystal buttons as well as pleated detailing. Snap button tape on placket makes it easy to do up. Crystal decoration popper buttons complete it on the sleeve collar. It's also super easy to wash!
Animo SS Beon White competition Shirt £147.69
Why we love it:
We absolutely love this Animo Beona Competition shirt & the unique detailing around the neck. Such a show stopper under your show jacket. The rich rhinestone decoration glistens beautifully in the sun. This shirt also has rhinestones around the arms as well as a simple Animo Logo on the left side
of the chest. It is of course completely practical & extremely comfortable to ride in. A must-have for any competition wardrobe!
Kingsland Windy show Shirt in Olive £69.95
Why we love it:
When I wear this to shows, I am always complimented that people love it! The colour is unique for a show shirt and makes the white collar pop & look Crisp & smart. It's extremely comfortable and kept my sweat patches at bay on a very hot day.
Animo Biwait Womens SS competition - Lemon £100.32
Why we love it:
The most beautiful Lace detail around the neck and chest is not only extremely breathable but adds such class to this show shirt. We love the colour combination and the fact you can complete the look with matching White competition Breeches Animo Niping Version 1  which have lemon piping.


Tommy Hilfiger LS Show Shirt - Optic White £89
Why we love it:
This Shirt oozes a sleek and professional look. It is an ultra- light long sleeve shirt which is suitable for the summer competitions as well as winter, in case you want to keep your skin protected in the sun. It has a small FEI- compliant Tommy Logo on the front of the chest. It has a long button placket detailing. The back has a small Tommy stripe, we love the subtle designs on this shirt.