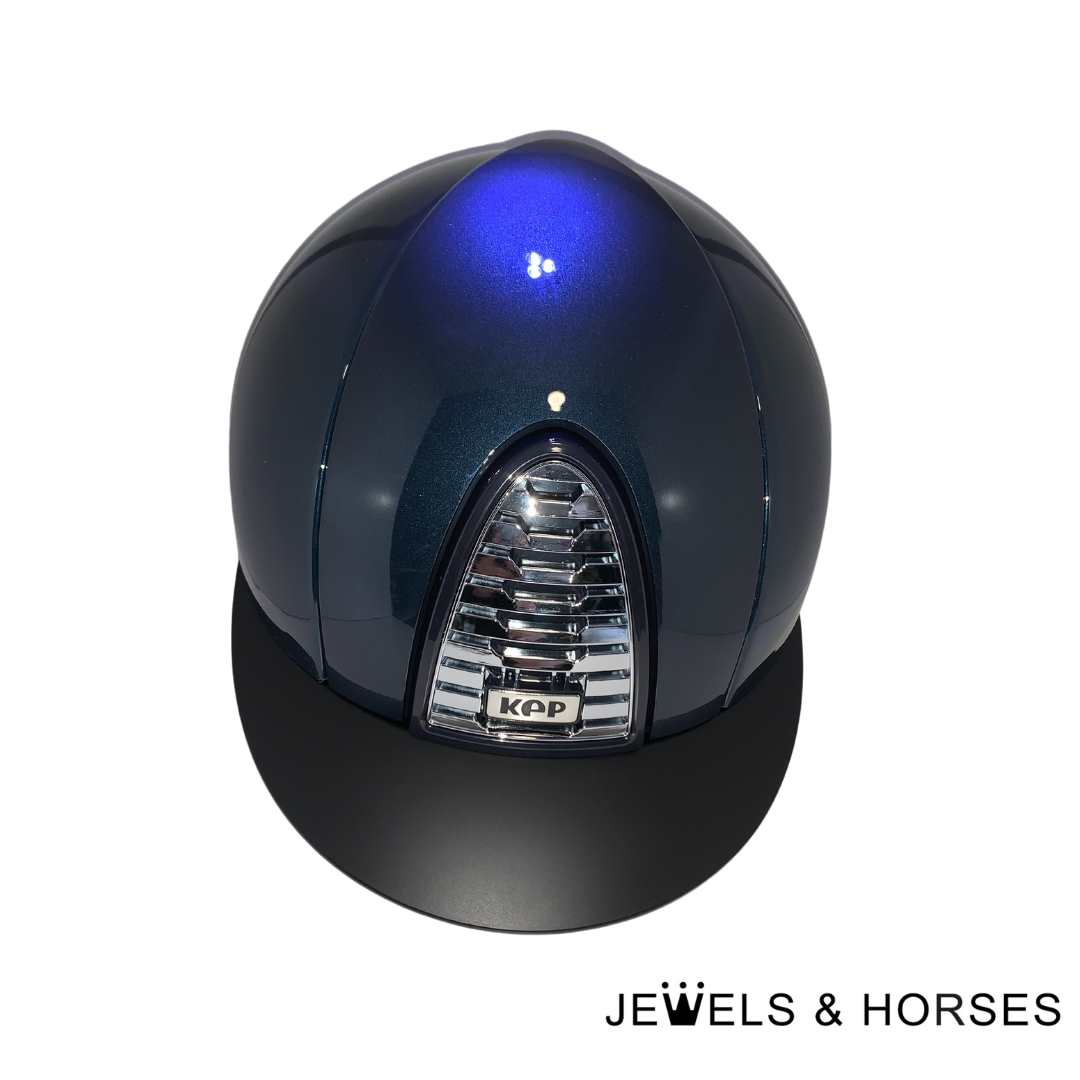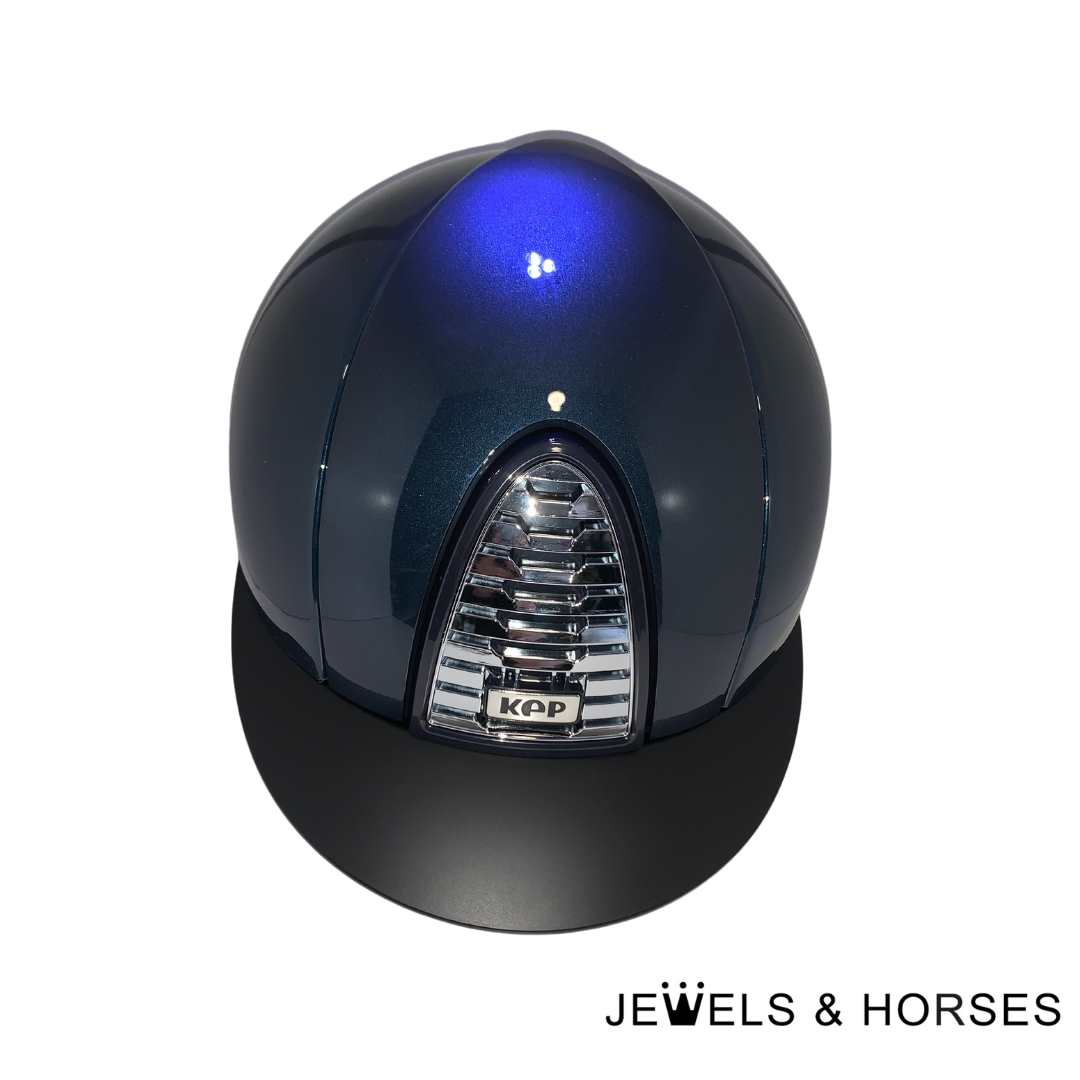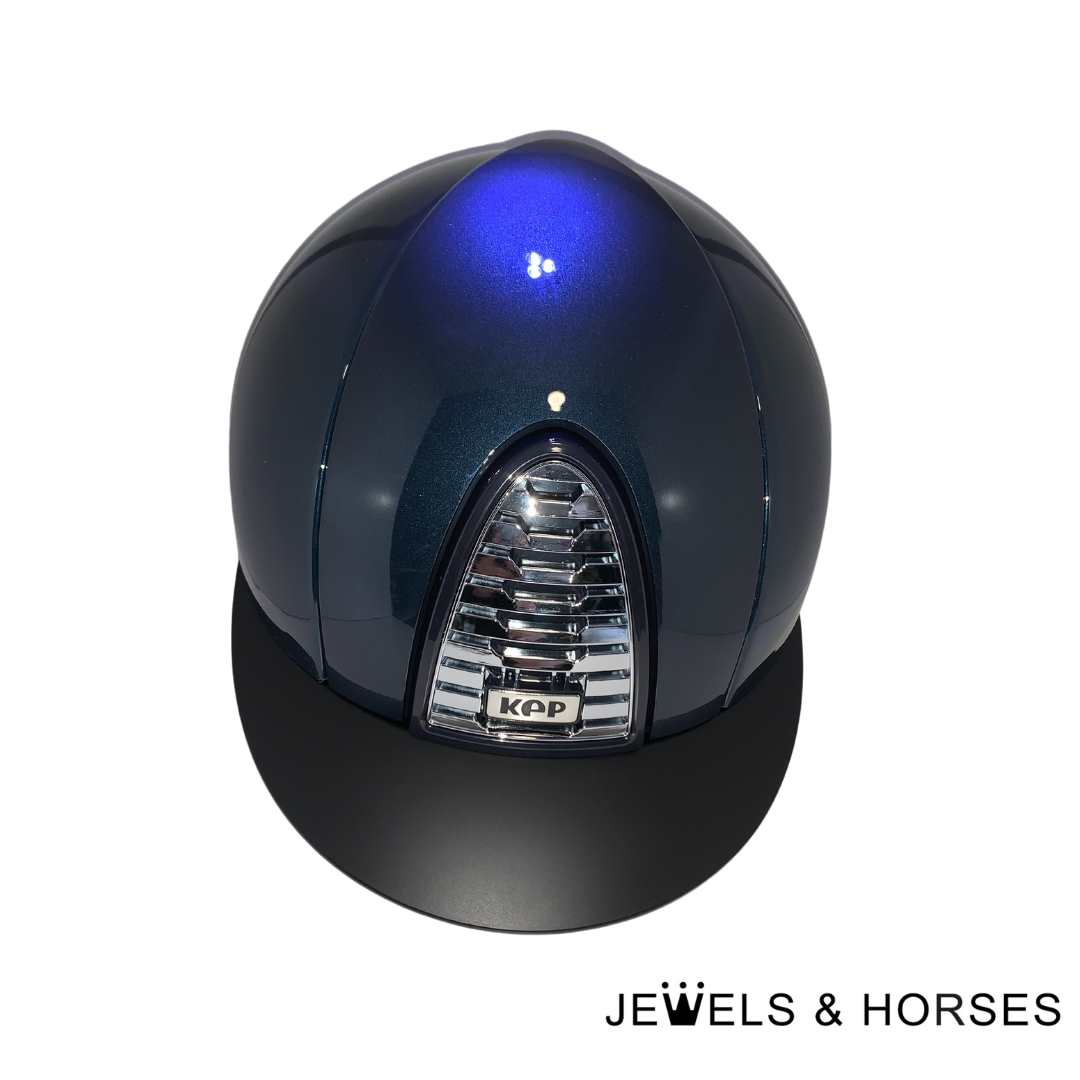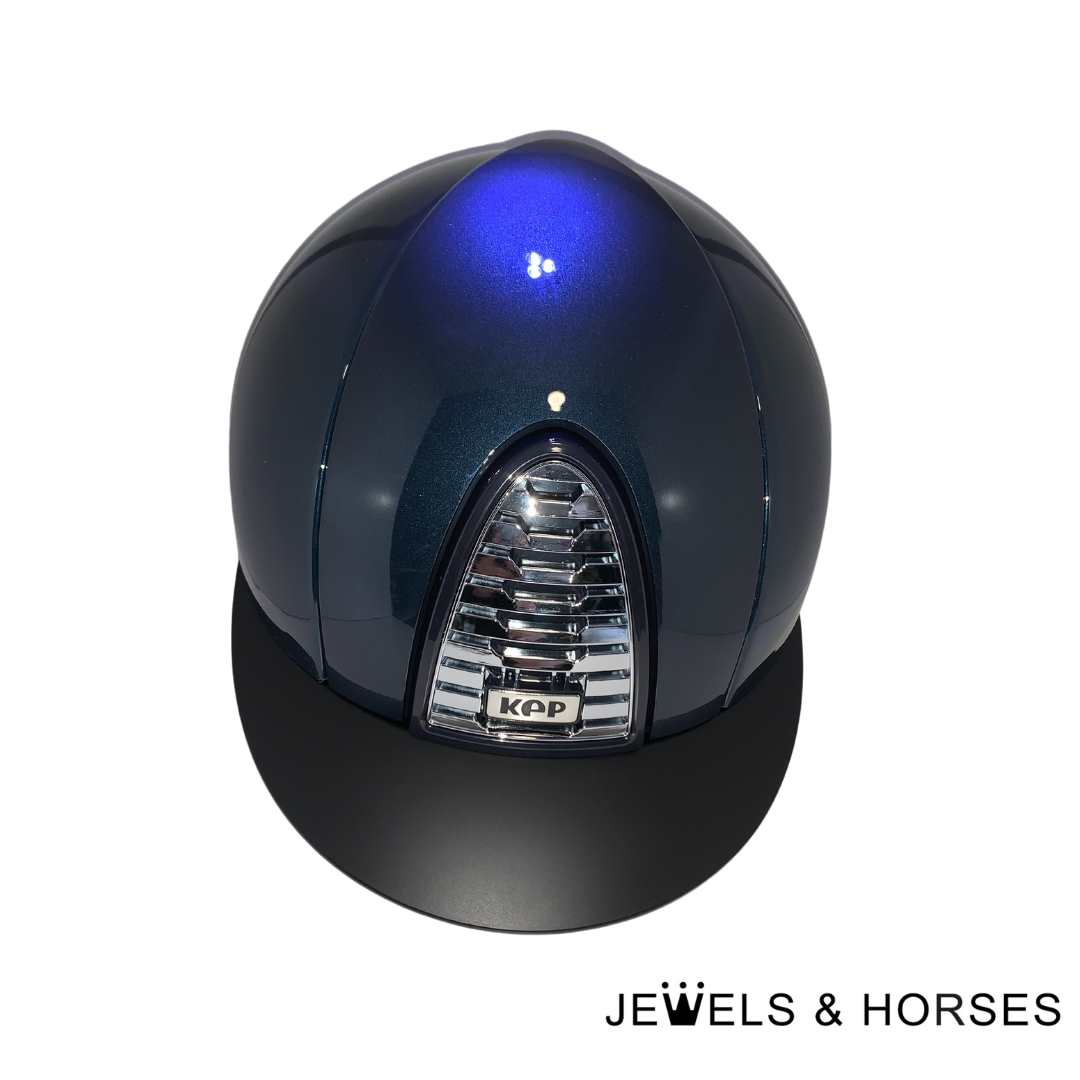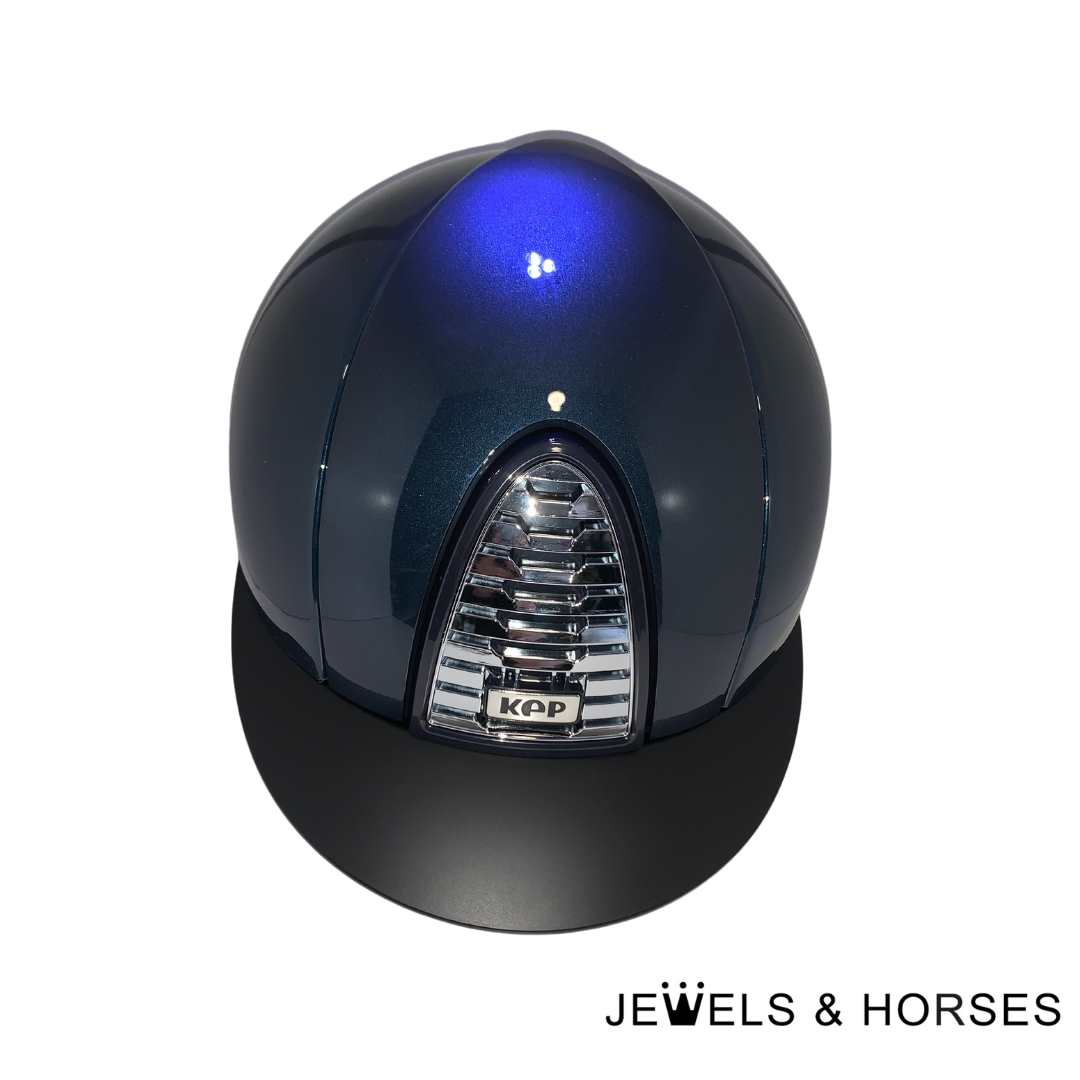 Kep Helmet Cromo 2.0 T Polish - Blue
The KEP helmet CROMO 2.0 model is the evolution of the KEP Cromo helmet. Also available in different finishes and colour variations, CROMO 2.0 gives the rider access to further independent customization options, even after purchase. 100% designed and made in Italy.
Kep has given customers the wonderful option to be able to change and customize their hat buy purchasing a new Panel/ Grill/ Peak which can then be unscrewed by the customer. Allowing you to change your hat as often as you please!
Prefer a Polo Peak? Add this option for £65.00. 
An innovative mechanical interlocking system allows the rider to replace both the front and rear inserts and the visor in just few simple steps. The outer shell is both lightweight and resistant thanks to the polycarbonate in-moulding design. The aggressive and elegant ventilation grille is available with both colour contrast and tone-on-tone finishes.
The KEP AIR CONTROL SYSTEM is enhanced with additional ventilation slits at the back, to ensure greater breathability and better internal temperature control. The hand-stitched genuine leather strap maintains the five attachment points for a more stable fit. The new padding, with improved comfort and breathability, is in soft fabric made from eco-green raw materials. It can still be removed and hand washed or machine washed at 30°.
You can customize your unique helmet with gorgeous freehand airbrushing or other techniques.
KEP HELMET CROMO 2.0 is fitted with an integrated microchip, positioned under the front insert, to which you can upload the rider's health details using the KEP App. In case of need, this can help speed up the provision of first aid.
Every helmet also comes with a jockey visor.
KEP Italia produces helmets with the outer shell available in two different sizes, M or L. The medium outer shell can be fitted with eight different sizes, from 51 to 58, whilst the large shell holds sizes 59 to 62.

But the right size of helmet is not enough; it must also suit the shape of the rider's head.

Indeed, it is possible to insert small separators into the helmet to adapt it to fit the head of the rider (that can be oval, round or egg-shaped) perfectly and can be inserted at the front, back or on the sides of the inside of the helmet. For this reason, KEP Italia has created ten linings for oval heads (typical in Europe) and twelve linings for narrow heads (typical of North America and Canada).
Weight: 500 g size M - 535 g size L